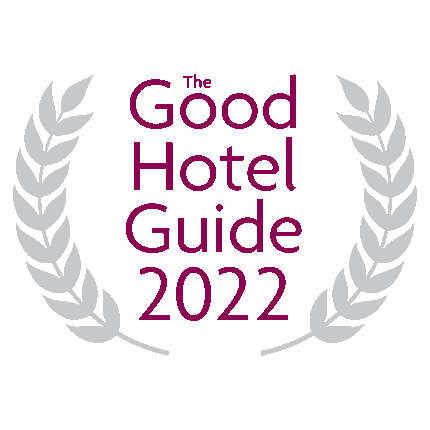 Find us in the Good Hotel Guide
here's what this independent hotel guide has to say about us:'The most agreeable and best-value hotel we know,' say fans returning to Barbara Garnsworthy's restaurant-with-rooms in a historic Dorset village. Further praise in 2012: 'Excellent; super rooms, fine food and the most friendly staff.'
Castleman Hotel and Restaurant is in the north Dorset village of Chettle, set within the inner part of Cranborne Chase, once royal hunting grounds and now designated an area of outstanding natural beauty.
Chettle is a small, family owned estate and village centred on a graceful Queen Anne manor house designed by Thomas Archer. It is a fine example of English Baroque and was built for George and Elizabeth Chafin.
After the Chafin family died out the estate was eventually bought by the Castleman family, bankers from Wimborne Minster. One of the Castleman daughters was married to Isaac Gulliver, an infamous Dorset smuggler, adding a touch of glamour and notoriety to the Castleman family as well as an infusion of funds. Edward Castleman died in 1946 and his descendants the Bourke family still own and run the estate today. Chettle still retains a traditional atmosphere with St Mary's Church, village shop, working farms and timber yard as well as the Castleman.
The Castleman itself occupies what was originally a much smaller farmhouse. It has been considerably altered and enlarged at various periods in history. During the nineteenth century two drawing rooms were added to the house. One has Regency plasterwork, the other has a Jacobean fireplace, originally from a house in London, and ornate carved woodwork on the ceiling, doors and shutters. The dining room has fine plasterwork on the ceiling.
In 1996 this building was refurbished and opened as the Castleman Hotel and Restaurant by Teddy Bourke and his wife Barbara, since when it has featured in numerous guides, as well as newspaper and magazine editorial. Sadly Teddy Bourke died in 2011 and his skills as raconteur and host are greatly missed but Barbara and the rest of the team continue the good work. From the outset our aim was to create a welcoming and comfortable place to stay with an unpretentious atmosphere. The restaurant is the hub of the Castleman with good food and well chosen wines, unstuffy service and sensible prices.
The county of Dorset has an enormously varied landscape including spectacular coastline and sandy beaches, chalk downlands and ancient heathlands. There are a great many historic houses, castles and gardens within easy reach of Chettle. See our Local Area page for some suggestions. Many villages in Dorset have lovely manor houses, barns, farmhouses, churches and cottages. The beautiful landscape surrounding the village is very good for walking, cycling and riding. There are several pay and play golf courses in the area including a very pretty eighteen hole course in Rushmore Park. For field sports enthusiasts the area offers shooting, riding, hunting with the Portman, fishing on the Stour, Avon and Allen.